Like that of many military airfields, the history of the airfield in Neuburg - Zell dates back to the mid-1930s. After hosting various units of the Luftwaffe of the Third Reich, the airfield was completely destroyed at the end of World War II, so that no buildings from that period can be seen today. At the end of the 1950s, the American authorities handed over the airfield to the German administration. Already in 1961 the fighter squadron 74 was put into service, which is still based in Neuburg - Zell today.
The main tasks of Fighter Wing 74 are to defend against enemy air forces, to escort its own air units and to secure German airspace. For this purpose, the squadron also maintains a Quick Reaction Alert (QRA) wing consisting of two fueled and armed jets that are ready for action within minutes. The squadron is also integrated into NATO air defense. After two years of parallel operations with the Eurofighter EF 2000 Typhoon, the McDonnell (Douglas) Phantom F-4F was retired from service with JG 74 in Neuburg in June 2008. The remaining F-4s were transferred to Wittmundhafen to Fighter Squadron 71, which provides the alert rota for the northern German region with the Phantom. In mid-2013, the Phantom was finally retired (after more than 40 years of service with the German Air Force).
In the meantime, as part of a recent Bundeswehr reform, JG 74 was renamed "Tactical Air Force Squadron 74". In 2014 and 2015, a comprehensive modernization and refurbishment of the air base took place. Among other things, the runway was renewed and the airfield received a new tower building. During the renovation work, TaktLwG 74 relocated to Lagerlechfeld and conducts flight operations from there.
For aircraft spotters the airfield in Neuburg is ideal, because it is one of the smallest NATO airfields, it is accessible by a ring road and there is no visual protection. Nevertheless, there is a photography ban and it is recommended not to "shoot" pictures too obviously. Here is a view from Google Earth, the points marked with "Spot" are the best places to observe the landing or departing aircraft, depending on the direction of takeoff/landing.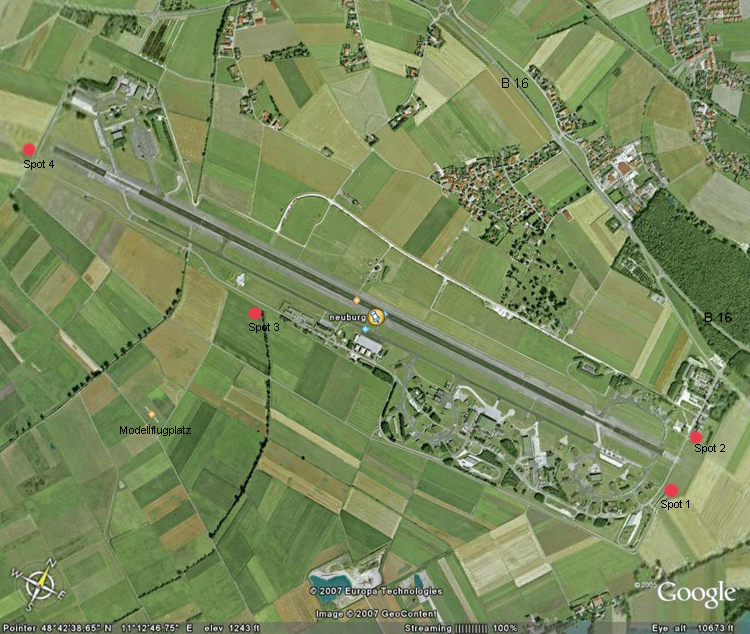 The EF 2000 Typhoon (Eurofighter) mentioned above can be seen every day in Neuburg, and there are also frequent practice approaches by aircraft from other squadrons (Tornado, Transall or Luftwaffe or Army helicopters). With a bit of luck, however, "exotics" can sometimes be caught, making a refueling stop in Neuburg, for example. Here are some pictures: